# Submitting liveries
# Download the template
Download the templates from our website.
It is important you use the templates we provide, as they include the compulsory decals for the event.

Paint you car as you would do. Preferably within the Paintable Area layer.

Disable the red layers. Yellow and blue layers should be enabled (see picture below).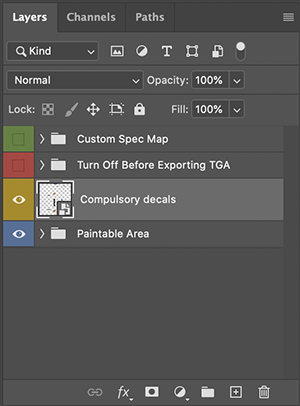 Attention
Also make sure to remove the iRacing's default car number panels. This is usually included in the red layers. Turn off the red layers!
Export the skin as TGA, with the red layer disabled.

The organisation will add the car numbers to the skins.
Settings for tga:

Resolution: 24 bits/pixel
Compress (RLE): checked (important!)

Save the skin as car_num_team_xxxxxx.tga. Replace xxxxxx with the ID of the team.
Tip
Only the xxxxxx part in the file name should be changed!
Example of the file name: car_num_team_123456.tga
# Submitting the livery
Send the skin, with the correct name, to the organisation by e-mail to skinpack@neo-endurance.com. Please add at least the following information with the skin:

Entry name
Car number
Team id

The team manager receives a written confirmation when the skins is approved and added to the skin pack.